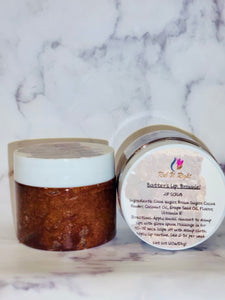 Step up to the plate and get ready for a home run because your lips are in for a chocolate explosion! A cocoa powder infused scrub combines with brown and cane sugar. Batter Up!
Ingredients
Cocoa Powder: Full of antioxidants such as vitamin C, chromium, iron, magnesium, zinc, etc...
Organic Cane Sugar, Brown Sugar, Cocoa Powder, Coconut Oil, Grapeseed Oil, Flavor, Vitamin E
Directions
 Apply small amount to dampened lip with provided spoon. Gently massage for 5-10 seconds. Wipe off with damp cloth. Apply lip balm or lip gloss as usual. 2 Oz.
**Inventory is made in small batches so appearance & packaging may vary. Effectiveness still the same. Avoid exposing water directly into scrub jar to preserve shelf life**
In love
I love this lip scrub and smells delicious 😄🥴 leaves my lips soft