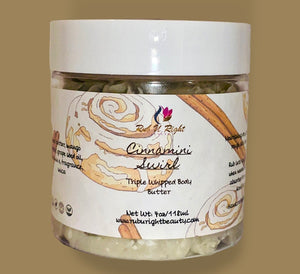 The delectable sent of fall right at your finger tips! With the warming scent of fresh baked cinnamon rolls and sweet vanilla frosting. Sure to make you smell like a delicious treat all winter. This triple whipped body butter nourishes, softens & hydrates dry cracked skin. No greasy or oily feel left behind but 24 hour moisture! 
Benefits
Moisturizes dry, itchy skin and rough patches
Softens & soothe skin texture
Nourishes skin for a silky soft feel
Melts into skin for radiant glow
Ingredients
🌰 Shea butter: Soothes + soften skin
🥭 Mango butter: Fades stretch marks + restores moisture
🍇
Grapeseed Oil: Evens skin tone + minimizes wrinkles
Unrefined Shea Butter, Mango Butter,
 Grapeseed
 Oil, Arrowroot Powder, Vitamin E, Fragrance
Directions
Apply on clean damp skin massaging in using circular motion until thoroughly absorbed into skin. Avoid on face.
**Inventory is made in small batches so appearance & packaging may vary. Effectiveness still the same. Avoid exposing water directly into scrub jar to preserve shelf life**