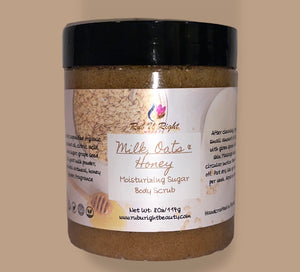 Milk, oats and honey exudes cozy and comfort to soothe skin. Goat Milk Powder, Honey Powder and ground oats is a powerhouse for eczema, psoriasis and sensitive skin for amazing softness to calm any inflammation. Milk, oats and honey is a win-win! 
Benefits
Cleanses skin of dirt, excess oil and grime

Exfoliates skin unclogging pores

Reduces appearances of ingrown hairs
Softens rough patches + dry skin

Leaves skin soft, smooth & supple
Ingredients
Ground Oats: Exfoliating cleanser for sensitive skin that soothes irritation and inflammation
Goat Milk Powder: Enriched with Vitamin A & E (repairs/renews damaged skin, antioxidant to repair/protect), Vitamin B6 & B12 (helps uneven skin, acne, wrinkles & dryness), Vitamin D (maintaining healthy skin), Selenium and Calcium
Honey Powder: Antioxidant that brightens skin complexion, a natural moisturizer with antiseptic properties to preventing breakouts and exfoliating enzymes that hydrate the skin
Water, saponified organic coconut oil, citric acid, cane sugar, grape seed oil, Oats, Goat Milk Powder, Honey Powder, Fragrance, Vitamin E
Directions
After showering, apply small amount of scrub to dampened skin with provided spoon. Massage and rinse off with warm water. Pat dry. Use up to 2-3x per week depending on skin sensitivity.  Stir gently if oil separates. 
**Inventory is made in small batches so appearance & packaging may vary. Effectiveness still the same. Avoid exposing water directly into scrub jar to preserve shelf life**