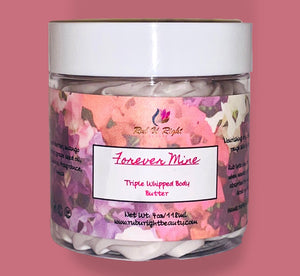 Step into a moment for pure self indulgence with our Forever Mine Shower Gel for irresistibly soft and noticeably smooth skin. A romantic blended scent of pear blossoms and white lilies. This triple whipped body butter nourishes, softens & hydrates dry cracked skin. No greasy or oily feel left behind but 24 hour moisture! 
Benefits
Moisturizes dry, itchy skin and rough patches
Softens & soothe skin texture
Nourishes skin for a silky soft feel
Melts into skin for radiant glow
Ingredients
🌰 Shea butter: Soothes + soften skin
🥭 Mango butter: Fades stretch marks + restores moisture
🍇
Grapeseed Oil: Evens skin tone + minimizes wrinkles
Unrefined Shea Butter, Mango Butter,
 Grapeseed
 Oil, Arrowroot Powder, Vitamin E, Fragrance
Directions
Apply on clean damp skin massaging in using circular motion until thoroughly absorbed into skin. Avoid on face.
**Inventory is made in small batches so appearance & packaging may vary. Effectiveness still the same. Avoid exposing water directly into scrub jar to preserve shelf life**
Yummy
Love lavender it's yummy and works like a charm.