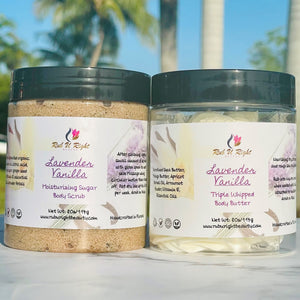 Fluffy. Creamy. Thick. Your skin will feel irresistibly smooth & moisturized after applying our triple whipped body butters designed to hydrate dry, cracked & itchy skin for a radiant glow✨
 This pleasant fragrance will relax your skin and senses. The freshness of Spanish lavender. The comfort of Madagascar vanilla. This sweet, classic floral is the best of both worlds💜
Benefits
Moisturizes dry, itchy skin and rough patches
Softens & soothe skin texture
Nourishes skin for a silky soft feel
Melts into skin for radiant glow
Ingredients
🌰 Shea butter: Soothes + soften skin
🥭 Mango butter: Fades stretch marks + restores moisture
🍑 Apricot Oil: Nourishes + fades wrinkles
Unrefined Shea Butter, Mango Butter,
Apricot Kernel Oil, Arrowroot Powder, Vitamin E, Essential Oils
Directions
Apply on clean damp skin massaging in using circular motion until thoroughly absorbed into skin. Can us on face.
**Inventory is made in small batches so appearance & packaging may vary. Effectiveness still the same. Avoid exposing water directly into scrub jar to preserve shelf life**
Love love
I have eczema and this is great on my skin. Love the smell..