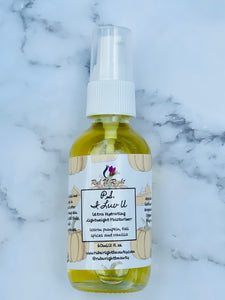 The yummy scent of fresh from the oven warm pumpkin pie with warm spices of cinnamon, vanilla, nutmeg...all the makings of the decadent dessert for you to Fall in love 
Handcrafted with a light non-clogging, non-greasy blend of oils to have your skin silky smooth and soft. A few drops go a long way to absorb & lock moisture into dry dull skin.
Benefits

Moisturizes dry itchy skin + rough patches
Hydrates deep into skin barrier locking in moisture

Softens skin texture
Leaves skin radiantly glowing
 Ingredients
Avocado Oil, Safflower Oil, Grapeseed Oil, Vitamin E, Fragrance
Directions
Apply a few drops to your body and massage into your skin until absorbed.  For best results, apply after shower/bath to wet skin and massage. Pat dry to lock in moisture.