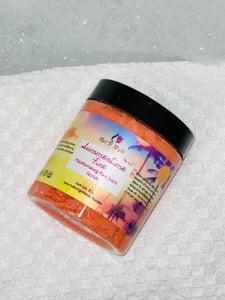 The name says it all! It's summertime and there is no other way to be or feel than FIINNNNEEEE! This enticing fragrance of citrus, tropical, and coconut transports you to a sandy, sunny beach. Coconut, pineapple, peach, orange, and melon aromas are combined with gentle notes of sweet vanilla, gardenia, and violet.
Benefits
Cleanses skin of dirt, sweat and excess oil
Gently removes dead skin cells

Exfoliates skin unclogging pores
Brightens skin complexion

Softens rough patches + dry skin

Restores hydration into skin for smooth supple texture

Ingredients
Pink Himalayan Salt, Water, saponified organic coconut oil, citric acid, fragrance, colorant
Directions
Scoop sizeable amount and massage onto wet skin using circular motion. Rinse off with warm water. Pat dry. Use up to 2-3x per week depending on skin sensitivity.  
**Inventory is made in small batches so appearance & packaging may vary. Effectiveness still the same. Avoid exposing water directly into scrub jar to preserve shelf life**