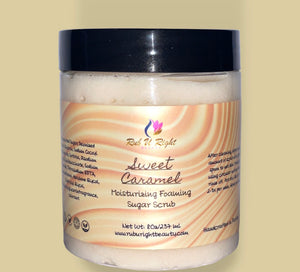 A rich creamy scent of butter, sugar, vanilla, and cream to make your skin feel amazing & you smell delicious. A dual body scrub to cleanse and exfoliate your skin while indulging in an intoxicatingly swet smell.
Benefits
Cleanses skin of dirt, sweat and excess oil
Exfoliates skin unclogging pores
Decreases ingrown hairs
Softens rough patches + dry skin
Leaves skin soft, smooth & supple
Ingredients
Sugar, Glycerin, Water, Sodium Cocoyl Isethionate, Sorbitol, Propylene Glycol, Disodium Lauryl Sulfosuccinate, Stearic Acid, Sodium Chloride, Diazolidinyl Urea, Iodopropynyl Butylcarbamate, Fragrance, Colorant
Directions
Scoop sizeable amount and massage onto wet skin using circular motion. Rinse off with warm water. Pat dry. Use up to 2-3x per week depending on skin sensitivity.  
**Inventory is made in small batches so appearance & packaging may vary. Effectiveness still the same. Avoid exposing water directly into scrub jar to preserve shelf life**