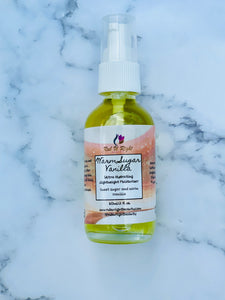 Feel all warm and cozy with the aromatic blend of sweet sugar, white orchid, intoxicating vanilla, fresh jasmine, and creamy sandalwood.
Handcrafted with a light non-clogging, non-greasy blend of oils to have your skin silky smooth and soft. A few drops go a long way to absorb & lock moisture into dry dull skin.
Benefits

Moisturizes dry itchy skin + rough patches
Hydrates deep into skin barrier locking in moisture

Softens skin texture
Leaves skin radiantly glowing
 Ingredients
Avocado Oil, Safflower Oil, Grapeseed Oil, Vitamin E, Fragrance
Directions
Apply a few drops to your body and massage into your skin until absorbed.  For best results, apply after shower/bath to wet skin and massage. Pat dry to lock in moisture.