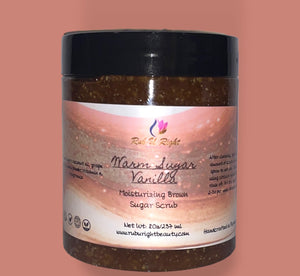 Feel all warm and cozy with the aromatic blend of sweet sugar, white orchid, intoxicating vanilla, fresh jasmine, and creamy sandalwood. Designed with oils to nourish and revitalize your skin.
Benefits
Exfoliates removing dead dry skin
Unclogs pores of dirt and skin debris

Reduces ingrown hairs
Fades stretch marks, fine lines and dark spots
Softens rough patches + dry skin

Leaves skin soft, smooth & glowing
Ingredients 

Organic Brown Sugar, coconut oil, grapeseed oil, honey powder, vitamin e, fragrance
Directions
On wet skin, scoop sizeable amount massaging onto body using circular motion for 1-2 minutes. Rinse off with warm water.  Pat dry to lock in moisture. Use up to 2-3x per week depending on skin sensitivity. 
**Inventory is made in small batches so appearance & packaging may vary. Effectiveness still the same. Avoid exposing water directly into scrub jar to preserve shelf life**